Terms of service
Commissions
➤ I accept payment upfront or in return for the initial sketch of the piece. I will work with your comfort as long as you work with mine.➤ I do not do refunds once I begin the piece. I am incredibly open to edits and changes. Please discuss your woes with me.➤ Please do not remove any signatures or watermarks. I appreciate proper credit.➤ You may apply filters, change hues, add effects, and whatever else you so desire. It is your piece after I receive the payment. All I ask is that you do not draw over completed work. I can edit details for you.➤ If you plan to utilize a piece for merchandising or branding, please inform me. I treat merchandise designing and drawing personal art as very different situations. Plus, I would love to see the outcome !➤ I am overall quite lax on what you wish to do with your piece. I appreciate your interest and support of my art. If you read this far, include "code13" in your message to me to receive a discount for first-time commissioners. =]
Adopts & Designs
➤ Any guidelines listed above also apply to this section. Please skim that as well.➤ All of my designs can be found on toyhou.se; however, you do not need one to purchase my work. I can handle it for you. Please keep their ownership up to date if you have an account.➤ Please do not remove any designs or art of mine from toyhou.se. If you want to remove something that I created, please contact me.➤ You may edit character designs as you wish once you own them, but please do not edit the original reference images I created.➤ Please do not upsell my work. If you have not added any value to the character's gallery, I would appreciate you selling them for a similar price that you obtained them for.➤ Enjoy your design. Do with it as you desire !
THANk you for reading!
Information
What I will do
These are only listed to help assure people with uncommon requests. I do much more.➤ Original or existing characters, real people, fanart, couples, photo recreation, light gore, NSFW, some fetish, and anything not listed at the bottom.I am very eager to try anything you may have in mind. Please contact me with any inquiries.
What I will attempt
These are things I do not specialize in but am willing to try. Results may vary.➤ Ferals, anthros, chibis, mechas, vehicles,
and certain landscapes.
What I will not do
I am within my rights to deny any request that I feel uncomfortable or incapable of completing.➤ Guro, NSFL, illegal material, hateful material, and certain fetishes.I will not, under any circumstances, sell NSFW, gore, or fetish material to those I cannot verify the age of. You must be 18 or older to commission that type of work.
basic price sheet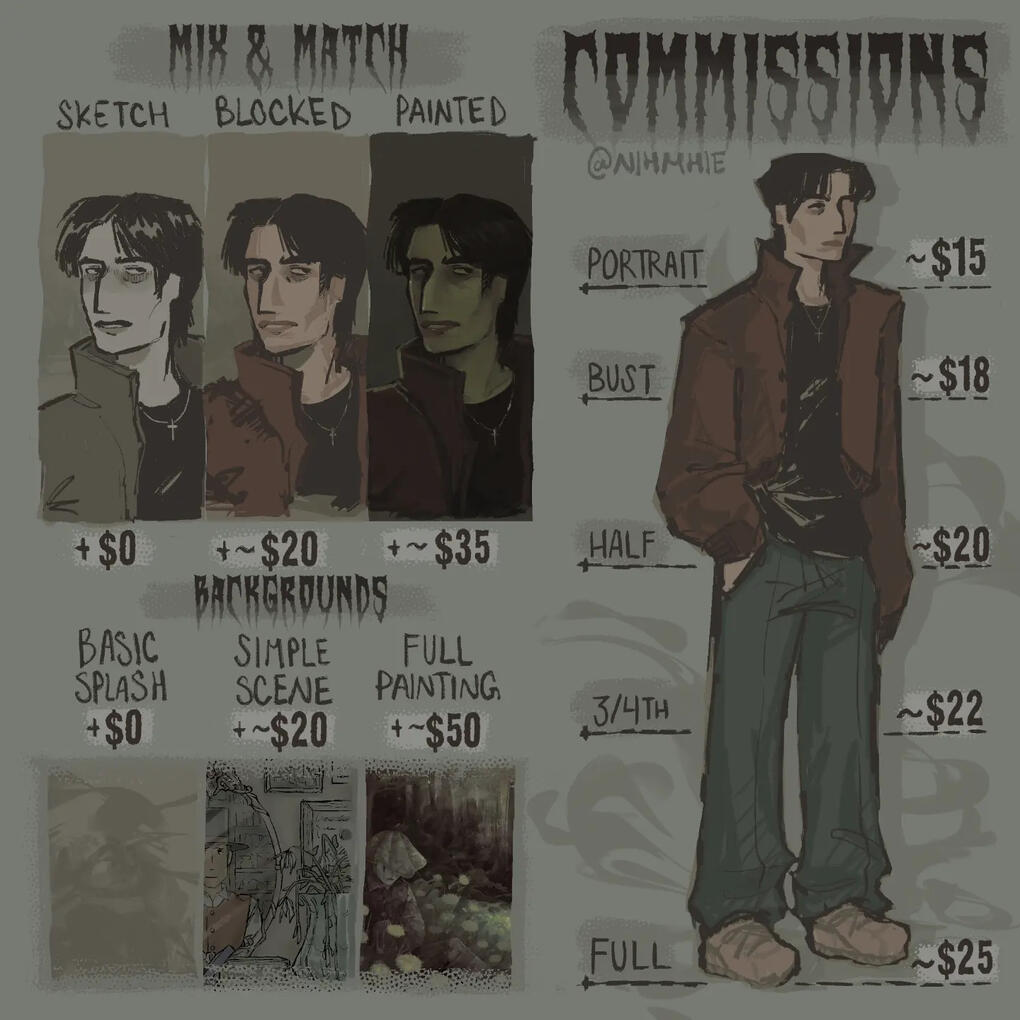 These prices are approximations.LINEART
Portraits: $15 | Busts: $18 | Halfbodies: $20
3/4ths: $22 | Fullbodies: $25
(This is the required, base price.)COLOURING
Sketch / Monochromatic: +$0
Colour Blocked: +$20
Painted / Rendered: +$35
(Optional.)BACKGROUNDS
Basic Splash: +$0
Simple Scene: +$20
Painted / Rendered: +$50
(Optional.)ADDITIONS
Extra Character: +Lineart Price per character.
Limit of 4 additional characters.
Prices may vary heavily.
---
NOTE
I would add more information / a portfolio / a better layout for this, but unfortunately, carrd is an absolute dickeat and limited my tools to do so.This is a basic rundown of my pricing, though it may have changes on a case-by-case basis.Thank you so much for your interest.
I appreciate it always ! ♡